CORPORATE YOGA CLASSES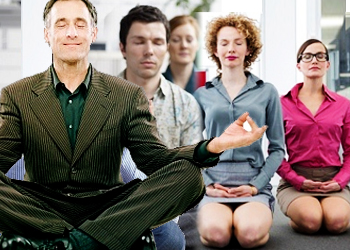 YOGA SERVICES AVAILABLE IN MELBOURNE AND MELBOURNE CBD AREA. WE WILL COME TO YOUR WORKPLACE .
The key to success for any company begins with a healthy productive and energetic workforce. Offering yoga in the workplace gives your employees the opportunity to exercise their bodies and
minds during the workday thus increasing motivation productivity and general well being.

What yoga does to your staff ?

Yoga sessions in the lunch breaks or after office hours are great for staff as the day might be quite hectic and the body and and mind needs energy besides food.

If yoga is followed in safe and simple traditional way of Hatha and Ashtanga system which involves combination of some specific holding Asanas pranayama and mantra chanting the end results are amazing as this process releases the stress controling harmones which relaxes the persons mind instantly and also re-energies them

Bottom line result ⇒ Employees return to their desks feeling refreshed energized and ready to meet the next challenge
Long term results of including yoga at workplace

►Increased energy levels and productivity
►Enhanced concentration and performance
►Reduced stress levels and strengthened immune system leading to less sick days
►Lower mental fatigue and improved decision making
►Enhanced communication skills as your mind become more clear
►Improved morale and work satisfaction
►Increased physical and mental wellbeing


Our Corporate yoga classes

Yoga and Meditation school of India has a specific on-site traditional yoga program which is design specifically to suits corporate workplaces & business. Following a consultation with your companys management or human resources team a program will be tailored to the needs of your organisation.

Classes are taught to groups in board rooms large offices lunch rooms and gyms Classes can be scheduled before or after work and during lunch time

Sessions last for 50 minutes and are tailored to each groups or individuals experience and ability.
Our Yoga Teachers

All our Teachers are well experienced and have professional liability insurance and have First Aid certificates
Workplace yoga Payment methods

Company pays the full amount for all employees to attend
Company half and employees pay the other half
Employees pay the full amount

Programs are tailored to each companys unique needs on per term bases which is min 10 weeks
Please email us info@yogaschoolofindia.com.au or call on 0410166909 for more details.