WHAT OUR PROGRAMME OFFERS TO THE KIDS?

The whole focus of introducing Yoga and Meditation for kids is to teach them how to relax and be more focus in their day to day activities. We conduct yoga classes for students from PREP upto GRADE 6 . The sessions are interesting, funny and challenging (at kids level). Our aim is to bring out the hidden talent & potential of the child and bring a healthy mind body balance.
YOGA AS A PART OF SCHOOL DAY
Our approach to teaching yoga as part of the integrated school day within established school routine plus input from teaching staff results in a much livelier , more vibrant and fun learning experience. And at the same allows us to focus on the social and emotional aspects of childrens learning.
OUR OBJECTIVES
In every lesson our objectives are to contribute to the overall sense of a childs self worth by:

improving childrens confidence
improving concentration
improving coordination
improving flexibility and fitness
teaching children how to be calm
teaching children how to relax
ADAPTATION - EVERY CHILD INCLUDED
In our programme, each yoga posture is modified along a scale ranging from easier to highly challenging, thus ensuring that every child is involved in the activity, including those who are physically impaired; and more able children challenged to their limit. In fact most children want to perform the more difficult postures and in this atmosphere it becomes a self-esteem enhancing activity. An experience that is not always apparent in PE or Games lessons, which is why many children try to avoid them.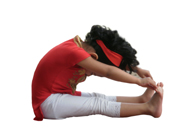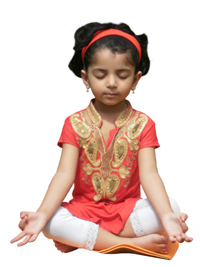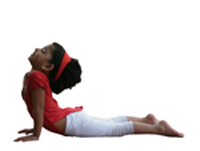 WHAT SCHOOL GOING KIDS WILL BENEFIT?
• Increase concentration, focus and attention
• Build self-esteem and confidence
• Creativity and imagination
• Develop strong, flexible and healthy bodies
• Experience relaxed state of body and mind

" In your hands is the power to help your child develop a strong healthy body, gain respect everywhere and love for himself/herself and discover a place of stillness and peace. Yoga & Meditation school of India is a stepping stone on this journey. It brings that wonderful inner light & potential that all children have to the surface."
WATCH THEM SHINE BRIGHT ALL TIME